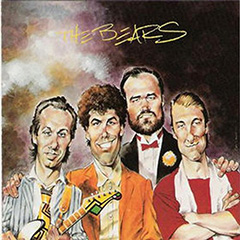 The Bears - Self Titled
Reviewed: January 30, 2008
What better way to start a review column than by reviewing The Bears, their self-titled debut album? For my money, it is the perfect power pop album— impeccable musicianship, Beatle-esque harmonies, intertwining guitars, and more hooks than a tackle box.
Guitar whiz Adrian Belew teamed up with old friends who were formerly in a Cincinnati-area band called the Raisins to form the Bears after the Raisins broke up in 1985. Their debut album met with critical success, however, their record company folded after their second album in 1988, Rise and Shine, and so did the Bears. Belew went back to a solo career and stints in King Crimson, and the three remaining Bears, Fetters, Nyswonger, and Arduser, went on to form Psychodots, who still perform to this day sporadically in the Cincinnati-area. All four have also enjoyed critically acclaimed solo albums.
The Bears reunited to release Car Caught Fire in 2001, a live album in 2002, and their latest album, Eureka! In 2006.
Enough of the history lesson. The Bears has an "East meets West" feel about it. Everyone contributed songs to the cause, but only Belew and Fetters sing on this album with some of the catchiest harmonies you'll ever hear, It's hard to pick out the highlights, since every song is so good, but there are standouts. "None of the Above" kicks off in high gear, followed by "Fear Is Never Boring," an old Raisins song. A few songs later and things slow down with "Wavelength," but fire right back up with "Trust," written by Bob Nyswonger, the band's bassist.
Now for the bad news— since the record company folded, the CD has been long out of print. Used copies of the CD sell for as much as $80 on eBay. There has been talk lately of re-releasing The Bears and Rise and Shine, since there is still an interest in these recordings. If you come across either album at a used record store, snag it and give it a try. The cover art by Mad Magazine's Mort Drucker will be worth the price. All in all, this is about as perfect power pop album as it gets.