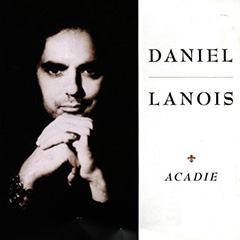 Daniel Lanois - Acadie
Reviewed: May 22, 2008
Another "Desert Island Disc." If Daniel Lanois' debut album, Acadie, doesn't send a chill down your spine, it only means one thing— you don't have a spine. A book called The Top 100 Canadian Albums ranks this album at Number 20. In my opinion, it should be in the Top Ten, but it's okay because anything by Celine Dion didn't rank higher (I checked the list).
You may not know the name, but you definitely know Daniel Lanois' trademark sound as a record producer— very ambient, airy, sparse, clean, but awash with tremolo and reverb that gives his work a certain murkiness. U2, Peter Gabriel, Bob Dylan, Robbie Robertson, the Neville Brothers, Willie Nelson, and even uber-producer Brian Eno have used his production talents.
Acadie marks Lanois' debut as a solo artist after years of producing other artists, and it was worth the wait. Lanois is Quebecois and recorded this album is New Orleans, which give the songs on this album an almost mystical quality. The instrumentation is mostly acoustic, stripped down on most tracks, but a stand-out is "The Maker," where Lanois shows his innovative side by using two interlacing bass lines, which is generally a big no-no in conventional music. Brian Eno and the Neville Brothers contribute to the album, as do Adam Clayton and Larry Mullen, Jr., the rhythm section of U2.
The album's title alludes to Acadia, which is where the term Cajun comes from, where French Canadians fled Canada and settled in Louisiana, thus the spiritual affinity between Quebec and New Orleans. The songs reflect this. "Jolie Louise" is an upbeat song, sung in English and French, drawing on Cajun references. "Under a Stormy Sky" also fits in this mold. Aaron Neville sings an almost otherworldly version of "Amazing Grace." "Where the Hawkwind Blows" has a harsh quality to it that separates it from the rest of the album.
Daniel Lanois went on to release more solo albums, including the soundtrack to the 1996 film Sling Blade. None of them are Top Forty fodder, but with the current state of Top Forty stuff, that's a good thing. I highly recommend this album for anyone who is tired of "the same old thing," but especially recommend it to anyone who is considering audio recording. Acadie is an excellent case study, and an album that I never get tired of, and I've had it since 1991.