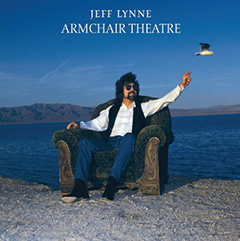 Jeff Lynne - Armchair Theatre
Reviewed: March 2, 2008
Armchair Theatre is another of those overlooked gems, and sadly, is now out of print. To date, this is Jeff Lynne's only solo album, After leading the Electric Light Orchestra through the '70's and '80;s, Lynne went on to the Traveling Wilburys, then on to produce a string of hit albums by Tom Petty, George Harrison, the Traveling Wilburys, and others.
Armchair Theatre is familiar territory for ELO fans, but it's anything but ordinary. The tight arrangements, harmonies, and hook-filled music is all here, trademarks of Lynne's production style. Former ELO mate Richard Tandy also helps out, as well as George Harrison.
In addition to this album (if you can find it), I would also recommend anything by ELO, and Cloud Nine by George Harrison, Full Moon Fever by Tom Petty, and either of the Traveling Wilbury's albums. The only other Jeff Lynne performance I can think of since Armchair Theatre has been the latest ELO album, Zoom, which is essentially a Jeff Lynne solo album.
Sonically, the album is perfect. I have used it for years as a reference album, and have met others who do also. This is an album worth seeking out. Incidentally, this album is the second CD I've ever bought, back in '91. The first was the Notting Hillbillies album, but that's another story.