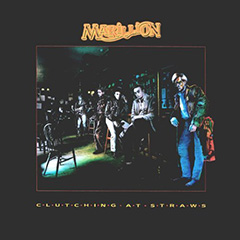 Marillion - Clutching at Straws
Reviewed: March 20, 2008
This is truly one of my "desert island discs." This is one of the most atmospheric albums you'll ever hear, beautifully produced by Chris Kimsey.
Marillion is a mainstay in the progressive rock world in Europe and the rest of world, but they never really made a dent in the States, aside from a couple of singles, "Kayleigh" in 1985 and "Hooks in You" in 1989. They enjoy a sizeable cult following in the States, but never quite made it mainstream. But that's not a bad thing, necessarily.
Led by their charismatic singer Fish (Derek Dick), Marillion recorded several albums between 1982 and 1987, before Fish left the band after recording Clutching at Straws for a solo career. In my humble opinion this is Marillion's finest album, and they put out some very fine albums before and since. It's dark and atmospheric without being pretentious.
Just about every track on Clutching at Straws is a stand-out track, so I'll just mention the ones I don't think are as strong: "Going Under," "Just for the Record," and "White Russian.." It's pretty much a concept album about being on the road, alcoholism, and all that goes with it, but the album does have an underlying hopefulness about it.
This is a great album! It's still in print, now in a remastered, two-disc version, so get it now!