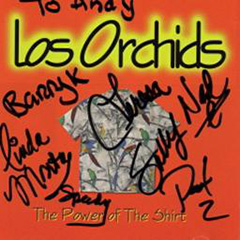 Los Orchids - The Power of the Shirt
Reviewed: May 5, 2008
Since my bread and butter is the local music scene, it's important that I review some locally released albums from time to time, and I can think of no better one than Los Orchid's The Power of the Shirt. But to be totally upfront, this is going to be more about the band than the album.
Los Orchids began as a back-up band for rockabilly great Buddy Knox, known mostly for his 1957 hit, "Party Doll." The name "Los Orchids" was taken from Buddy's back-up band at the time, the Rhythm Orchids. My own personal tie to this is that Buddy Knox was a fellow Texan (from Happy, Texas), and had done recording at Norman Petty Studios in Clovis, NM, which I am very familiar with from my musical past in that region. The band's foremost member (next to Buddy) was Jr. Cadillac's Ned Neltner. Los Orchids was assembled so Buddy could play some dates in Mexico, but he died soon after, before the new band got a real chance to do anything. The Power of the Shirt is dedicated to Buddy Knox, and also includes a song by Ned Neltner dedicated to him.
After Buddy Knox's death, the band decided to stay together, and went through some personnel changes. A line up of Neltner on guitar, Barry Kennelly on bass, Pat Tennis on guitar, and "Speedy" Gonzalez on drums emerged and began playing all over the Sound region. Los Orchids was often augmented by some female back-up singers known as the Valley Girls.
Other personnel changes were made. For awhile, Los Orchids rivaled Spinal Tap with a revolving door of drummers, but stabilized with Daryl Siguenza. Neltner left the band for the warmer climes of Mexico (CD Baby has several of his solo CDs under the name of Lalo). Former Kingsmen guitarist/keyboardist Barry Curtis joined to lock guitars with Pat Tennis. Also, the Valley Girls broke up, and Valley Girl Sally Kennelly (Barry's wife) joined the "official" line up.
Now back to the CD. It is a very good representation of a regional band— energetic, good chops, some original songs, etc. I must admit that I am biased to it for sentimental reasons that I won't get into, but Los Orchids has been friends of my wife and me for almost eight years. We've probably seen about every incarnation of the band, and feel that The Power of the Shirt stands along with the other great independent releases in the Pacific Northwest. Los Orchids has also shown their staying power as a favorite, having been together for about ten years.
Los Orchids have released other albums, but I also have to mention a song they did for a charity compilation album several years ago, called "Gene's Jacket." Great song.
Los Orchids doesn't play much in the South Sound, unfortunately, but catch their shows. You'll be glad you did.