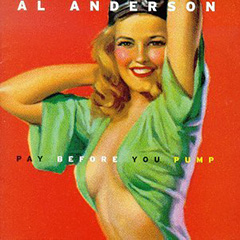 Al Anderson - Pay Before You Pump
Reviewed: February 20, 2009
Okay, guys, eyes down here. There's an album review to be read. And girls, don't be writing in with any objections to the cheesecake artwork. I've seen women's magazines covers, and this is nothing compared to that. The cover alludes to calendars that used to be found in gas stations ("fillin' stations," as they were called). That also explains the album title, Pay Before You Pump.
Not buying it? Would you believe that's Al Anderson on the cover? Okay, on to the review.
Al Anderson was the guitarist and one of the principle songwriters for NRBQ. NRBQ's music defies description, but a lot of it is quirky power pop/rock. In the early 1990's, Al Anderson left NRBQ, moved to Nashville, and became a songwriter for country music stars. He didn't completely hang up his own music career. Anderson put out several brilliant solo albums.
Anyone familiar with Anderson's music during his tenure with NRBQ won't find any NRBQ-styled songs here. Pay Before You Pump is a great example of his country-tinged songs. "Without Your Love" was a hit for country star Aaron Tippin. But there are also straight forward rockers on the album, "No Place in History," "That Thang," and the NRBQ-ish "Bang Bang Bang," which features Elvis Costello and Delbert McClinton. The album was also recorded live in the studio with minimal overdubs.
Pay Before You Pump is a truly wonderful album— a fun listen. Anderson is a brilliant songwriter and performer, and though the album is a little heavy on the country side, it shows his wide range of writing styles. It's in print and I highly recommend it for anyone as an introduction to Al Anderson. For the more adventurous, check out his work with NRBQ. Wild Weekend or Message for the Mess Age are good starter albums.