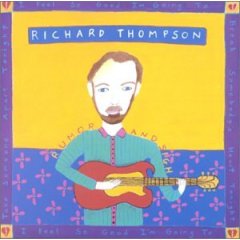 Richard Thompson - Rumour and Sign
Reviewed: August 15, 2008
It's an injustice that Richard Thompson isn't more famous than he is, but it's probably a good thing he isn't. If he were a household name, in this popular culture-obsessed society we live in, it would mean that his music would be total garbage. Thompson remains one of music's best kept secrets.
For those "in the know," Richard Thompson is one of the greatest songwriters/guitarists alive. His songs tell stories— often sad ones— and his guitar style is marked by a distinct twang with a touch of distortion. When he starts playing, you know it's Richard Thompson.
Thompson got his start in the '60s as lead guitarist in the British folk-rock band, Fairport Convention. After several years, he broke from the band, and recorded several albums throughout the '70s with his wife, Linda/ Richard and Linda Thompson's 1982 album Shoot Out the Lights was voted by critics as one of the best albums of the '80s. That will be for another review.
Richard and Linda divorced after Shoot Out the Lights, and Richard went on to a solo career, releasing a whole bunch of albums during the '80s, which were hits with critics and guitarists, but never seemed to break into the mainstream.
In 1991, Thompson released a landmark album of his solo career, Rumour and Sigh. Produced by Mitch Froom (who also produced Sheryl Crow, Elvis Costello, Paul McCartney, and others), this album was an attempt to move Thompson into the mainstream by giving the album a slicker feel, but it doesn't lose the intimacy of the earlier albums. Froom had also produced Thompson's previous albums, Daring Adventures and Amnesia, but they failed to have quite the impact as Rumour and Sigh.
Typical of Thompson's songwriting, the songs are full of desperate characters, from the teenage boy who learns about the facts of life from a girlie magazine ("Read About Love"), a criminal just released and looking for his next crime ("I Feel So Good"), a man whose love is committed to an asylum ("Grey Walls"), and the high point of the album, "1952 Vincent Black Lightning," an acoustic ballad about a Sid and Nancy romance of doomed lovers. "Don't Sit on My Jimmy Shands" recalls the World War II-era English dancehall songs. The album closes out with the disturbing "Psycho Street," the verses in a frenetic half-spoken voice, with the happy, lilting refrain in juxtaposition.
Thompson also blends traditional folk elements into a modern setting. He's equally masterful of the electric and acoustic guitar. From a technical standpoint, there isn't anything very remarkable about the production. Like the other Froom-produced albums, Rumour and Sigh has a more commercial sound than the albums Thompson made for Hannibal Records. His earlier albums had a more stripped down feel, where Rumour and Sigh is fleshed out a little more instrumentally.
Rumour and Sigh is a landmark album, Thompson's most successful and well-known solo album, being nominated for a Grammy for Best Alternative Rock. It's highly recommended for those new to Richard Thompson's work.